One of my favorite new lists of DIY projects came to me via Sara at
2000dollarwedding
who found it via
Stylish Events
. It's an amazing list of 101 DIY Projects and Ideas for weddings and it can be found
here
. The best thing about this list is the way in which it's divided into categories so you can easily find a project for any aspect of their wedding.
Some of my favorites include the
bouquet mason jars with handmade name tags
which were used to hold the bridesmaids bouquets during the ceremony.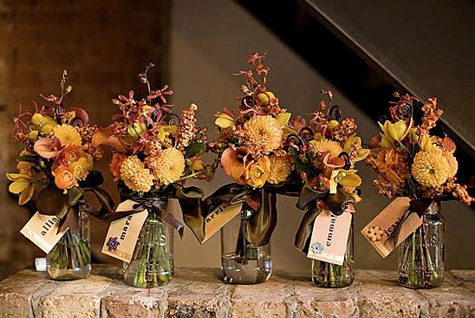 And from Martha Stewart weddings comes
door monograms
and
two-minute corsages.
And some of the most special inclusions are the
DIY Pocket Square Love Note
and the
DIY Bridal Party Survival Kit
... both of which I plan on attempting, in spite of the fact that my embroidery skills leave much to be desired!